It's been almost a full year since the ARTAS® System arrived at the Hair Transplant Institute of Miami, and the response has been exceptional. South Florida residents have been quick to embrace the new "transplant robot" after learning two important facts about the ARTAS procedure:
1. ARTAS is physician-guided. Though ARTAS is the first ever FDA-approved robot for FUE hair transplant, the procedure is conducted under the supervision of a trained and highly skilled surgeon. The "robotic" element of the procedure occurs when donor hair is scouted for extraction and transplant. The surgeon, however, still conducts the actual transplant by hand.
2. ARTAS delivers unparalleled precision and accuracy. The ARTAS is the only system in the world to calculate and re-calculate vital parameters for follicular unit (hair) extraction up to 50 times each second. As the onboard computer makes these calculations, the robotic arm of the ARTAS aligns itself to perform a minimally invasive extraction with unparalleled precision and accuracy.
Before and After: A Review of the ARTAS® System
An estimated 35 million Americans are candidates for a surgical hair restoration procedure (i). However, only a small fraction of those individuals move forward to claim a new, natural, and permanent head of hair. Individuals cite numerous reasons for straying away from a surgical procedure, including:
Discomfort
Too long a recovery time
Fear of noticeable "pluggy" look
Fear of post-procedure "linear scar"
Artas Revolution: Hair Transplant, Redefined
A new generation of ARTAS System procedures are quickly redefining what it means to have a hair transplant, and patients could not be happier. As the world's most advanced method of FUE transplant, ARTAS enables surgeons to deliver perfectly natural results through a more comfortable patient experience.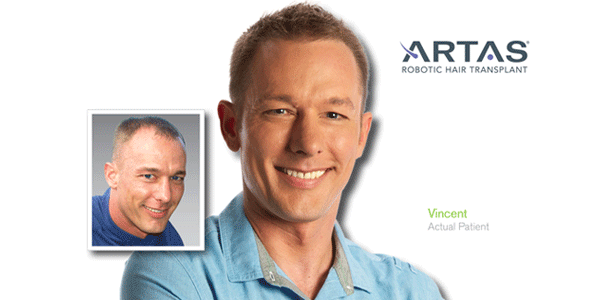 Today, ARTAS makes hair transplant procedures:
Faster
More comfortable
Minimally invasive, causing less trauma to the scalp
More precise, consistent, and accurate compared to older methods
No linear scarring, enabling patients to wear shorter haircuts post-procedure
Advanced FUE, allowing surgeons to use ARTAS to cover scars from previous "strip donor" procedures
Learn More About ARTAS Technology
Learn more about the ARTAS System in Miami, or call our clinic to schedule a hair loss evaluation and consultation at 1-877-443-9070.
Sources:
(i) "A Better Patient Experience." Restoration Robotics. Accessed 18 August 2013.https://www.miamihair.com/blog/hair-transplant/artas-transplant-before-and-after-photos/