Performed by M.D Board Certified Specialists
At Miami Hair Institute, your ARTAS procedure will be performed by M.D. board certified specialists certified by the American Board of Dermatology and Fellows of the International Society of Hair Restoration Surgery. At our center you will have personalized care by three of the most skilled hair surgeons worldwide with over 50 years of combined experience.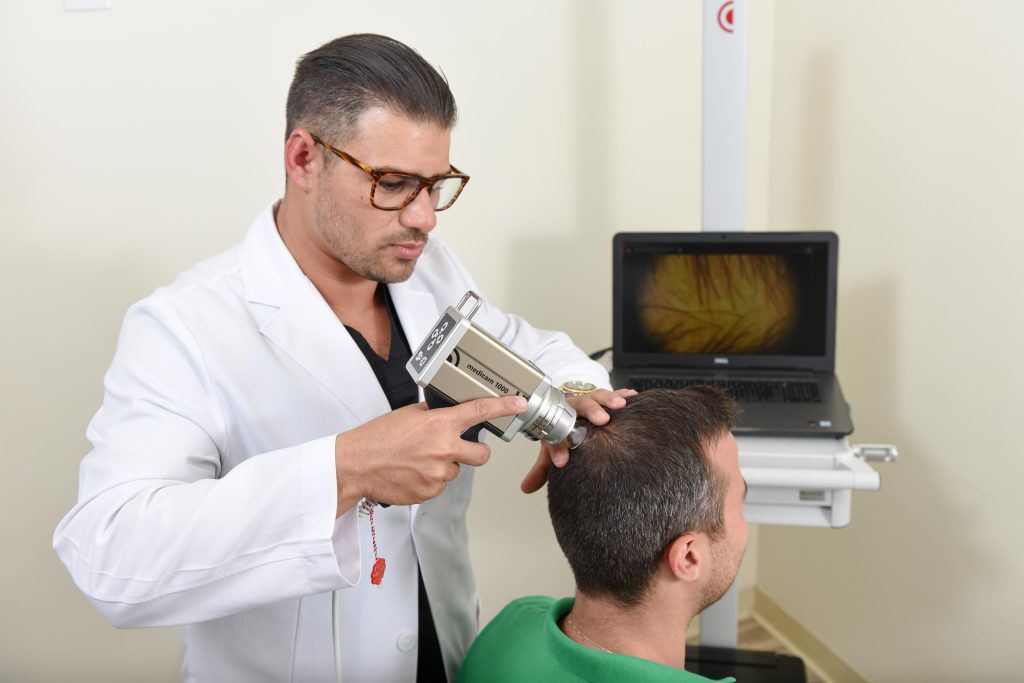 The absolute limiting factor in hair restoration surgery is your finite supply of donor follicles; therefore, we take meticulous care to ensure that all our systems are geared to ensure the highest percentage of follicle survival. Some companies that manufacture FUE equipment also provide unlicensed technicians who will travel from state to state, without malpractice insurance, to perform your entire surgery in a offices where the physician has no experience whatsoever in hair loss diagnosis or in hair restoration surgery. If you were subjected to a surgery in that environment, and something went wrong, you would be left with little recourse. In choosing a clinic, it behooves you to research the surgeon's track record in hair restoration and whether the clinic is dedicated to hair surgery.
It is imperative that you inquire as to who exactly will be performing your surgery and extracting your precious donor follicles. The Florida Board of Medicine has declared that it is illegal for unlicensed technicians to perform donor follicle extractions or skin incisions as that is considered performing surgery.
Read more at the International Society of Hair Restoration Surgery Website:
ARTAS Robotic Surgery at the Miami Hair Institute
Below are the differences between ARTAS Robotic Surgery at the Miami Hair Institute and a clinic utilizing the Neograft or Smartgraft System.
ARTAS® 3D Vision Guided Robotic System
Intelligent algorithms identify and select the optimal hairs for harvesting.
Targeted graft selection
Uniformly harvested donor area
Computer Algorithms: None
No automated safeguards to track previous dissection sites.
Hair direction, angle, spacing and depth must be estimated visually by the operator.
Image guided robotic alignment for precise graft dissection unmatched by human manual techniques:
Graft quality remains consistent throughout the procedure.
The thousandth graft is the same quality as the first, as human fatigue is not a factor.
The ARTAS Robotic System monitors and updates parameters of each follicular unit 60 times per second.
Motorized handheld harvesting tool. All harvesting is performed by punching out hairs by hand one at a time.
High resolution digital imaging provides unparalleled visual detail of the donor area.
Exceptional control of parameters such as spacing between harvests, graft dissection depth and hair angles to yield robust and viable grafts.
User Interface: Not Available
The handheld technique depends entirely on human eye-hand coordination.
Risks include human error and a high degree of human fatigue, resulting in skill variation from hour to hour or on certain days.
Patented Blunt Dissection technique designed to produce minimal scarring and viable grafts.
Utilizes suction and vacuum only during dissection process. The graft elevates above the scalp for ease of forceps extraction.
Digital Mapping Real-time 3D analysis that provides accurate mapping and calculations of critical hair follicle characteristics necessary for successful graft dissection.
Digital Mapping: Not Available
ARTAS Hair Studio® Technology
3D simulation depicting your potential results. During the consultation, your physician will design your surgical plan and illustrate options with your input.
Computer Simulation: Not available
Simulation technology not available
A Paradigm Shift in Hair Transplant Surgery
In practice, our Surgeons obtain several magnified images of the patient's scalp in areas unaffected by the balding process. We analyze the images to tabulate the percentages of one, two or three hair follicular units and determine their topographical arrangement unique for that patient. This data is then used for creating a personalized, most natural, design for implantation of the recipient zone.
Mosaic Hair Restoration: Not Available
Moisaic Hair Restoration not available.