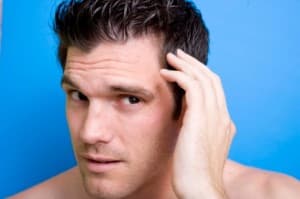 The micrograft hair transplant procedure represents a bold achievement in the field of hair restoration. Developed in the early 1980s, micrografting techniques were first used to create a subtler and more natural end result. Prior to the development of the micrograft procedure, hair transplant surgeons would extract large sections of hair from the donor area that would leave large scars and produce obvious signs that a transplant had been performed. Most will recall these procedures for their "pluggy" look that eventually earned them the nickname hair plugs.
The days of hair plugs are long gone. The introduction of micrograft procedures marked a true turning point for surgeons as well as the millions of men and women who suffer with hair loss. Today, modern hair restoration involves two highly evolved micrograft procedures: Follicular Unit Transplantation (FUT) and Follicular Unit Extraction (FUE). To better understand these procedures, it is helpful to first understand how the micrograft procedure was first developed.
Early Micrograft Surgery: A Brief History
The advent of micrograft surgery was a true game-changer for the field of hair restoration. Driven by technological advances and a more thorough understanding of donor area harvesting, hair surgeons began extracting multiple thin strips from the donor area with greater precision than older techniques. These thin strips became known as micro-grafts. From each micro-graft, surgeons were able to further separate hairs into clusters of 1-4 follicular units, without incurring any damage to the each individual hair unit.
The process of extracting and carefully dividing multiple donor strips eventually became known as Follicular Unit Transplantation (FUT). Today, an even more precise method of transplant called Follicular Unit Extraction (FUE) is also available.
FUT and FUE Procedures: An Evolved Form of Micrograft Transplants
FUT / Strip Donor Procedure
The FUT procedure, sometimes also called a Strip Donor Procedure, is one of the most commonly used forms of hair restoration. The advantages of this procedure include:
From start-to-finish, FUT procedures take less time.
FUT procedures are associated with a greater rate of survivability among individual follicular units.
Minimal scarring: This is accomplished through a special "ledge" trichophytic closure technique developed by Hair Transplant Institute surgeon Dr. Paul Rose.
Advanced FUE and FIT Procedures
The FUE procedure is a newer and more precise means of harvesting and transplanting individual follicular units. During an FUE procedure, individual hair follicles are removed from the back and sides of the scalp. A special "punch-like" instrument is used, measuring only 1-mm in diameter.
We are excited and pleased to announce an advanced form of the FUE procedure, co-created by Dr. Rose for optimal and natural looking results. Known as Follicular Isolation Technique (FIT), this new procedure has the following advantages:
No linear scars: Since each individual follicle is removed using an ultra-fine "punch" instrument, FIT procedures do not produce linear scars.
Hair can be worn shorter: Since there is no linear scar, FIT patients can wear their hair very short without any signs of scarring. Individual circular scars are mildly visible when the hair is shaved entirely, however.
Exceptional surgeons are available: Patients who choose to have a FIT procedure at the Hair Transplant Institute of Miami receive a special advantage that other hair loss clinics cannot provide: Exceptional experience. At our Institute, your FIT procedure will be conducted by Dr. Paul Rose, a leading hair surgeon and FIT procedure co-creator. You may visit the following page to learn more about Dr. Rose.
How long does FUE transplant last
When considering the longevity of a FUE hair transplant, it's important to understand that the results can vary from person to person. Generally, the transplanted hair follicles are chosen from areas less prone to genetic pattern baldness and are therefore more resistant to hair loss over time. This means that the results of a well-performed FUE transplant can be long-lasting and appear natural. However, it's essential to note that while the transplanted hair is relatively permanent, the existing natural hair around the treated area might continue to thin as part of the ongoing aging process. To maximize the longevity of your FUE transplant, adhering to post-operative care instructions, maintaining a healthy lifestyle, and discussing any concerns with a qualified hair restoration specialist can contribute to achieving the best possible, enduring results.
Comparing FUT and FUE/FIT Procedures
Both FUT and FIT procedures have advantages and disadvantages, depending on the specific needs of the patient. Learn more about these incredible advancements in hair restoration surgery by visiting the Hair Transplant Procedure: FUE/FIT page on Miamihair.com.
Seek an Evaluation with a Team You Can Trust
The evolution micrograft transplant surgery has produced 3 very effective procedures that have helped countless individuals overcome hair loss. Together, FUT, FUE, and FIT procedures provide an array of options for the millions of men and women who suffer with hair loss. To learn more about the option that is best for you, schedule an appointment with the Hair Transplant Institute. Our team is comprised of South Florida's finest hair transplant surgeons, nurses, microscopists, and technicians, each of whom understand the challenges hair loss presents to personal, social, and professional life.
Visit the following page to learn more about advanced hair loss evaluations at the Hair Transplant Institute. Readers are also invited to call our front desk directly at 305-925-0222.https://www.miamihair.com/blog/hair-transplant/what-is-a-micrograft-hair-transplant/